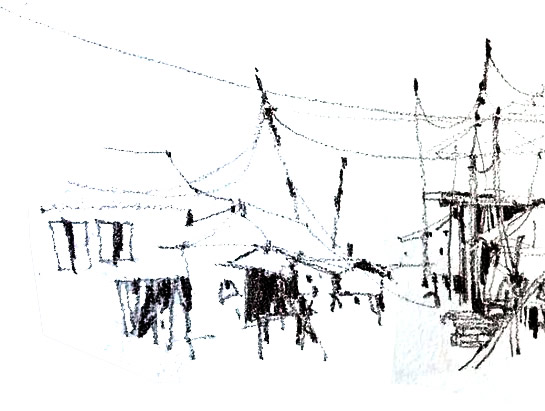 I have not been through formal training in any art school, but it is through a strong passion and interest in art that I have used my life to do art ever since I was young.
I have always felt that being self-taught is not an easy thing; and creation of art is even harder! However, a strong interest is what motivates me to move forward.
In my art journey, there are both joys and challenges. I learnt things through trial and error and realized that the ups and downs of my art life are nutrition for my creative process and nourishment for my life. These encounters help me to grow and solidified my determination to continue moving forward.
I have always been "loyal to myself" on this road, whether it is during the "realistic style" in my beginning stage, or during the "semi-abstract style" now. I like to create according to my heart and not allow my creation to be fixed by a boundary. In terms of medium, I chose to use the transparent watercolour medium as my main creation tool, while oil paint is also one of my favourite medium.
As for the subject matter, I have also started to paint some natural scenery, street scenes, and buildings etc., apart from the usual fishing boats and villages in my beginning stage. Maybe I will try other subject matters in the future as my life experiences, knowledge and skill level increase.
My hope is for my works to evoke a strong emotional response in my viewers and a mutual understanding. To me, a creative work should not be just an artist painting a picture only, but it should be a dialogue between the artist and the work, an artist with himself, and also an artist with the viewer. Art should possess the ability to communicate, and I hope that my work can open up this conversation so that viewers can understand the story while participating in it.
2018 is a special year because I have fulfilled my promise to myself to be awarded Signature Membership in the American Watercolor Society (AWS).
2018 Jan 29th by Jayson Yeoh
我没受过任何艺术学院的专业训练,从年幼开始直至今天,就凭着一股热情与兴趣,我让自己的人生参与了艺术。
总是觉得自修是一件不容易的事;创作更是一件'苦差事'!然而,热爱就是鼓励我前进的动力。
艺途中,苦乐参半,跌跌撞撞中体悟出,原来艺术生涯生中的起起落落,是我创作中的营养;也是生命中的养分,这些经历助我成长,也坚定了继续走下去的信心。
这一路走来,不论是初期的'写实'表现风格,还是现阶段的'半抽象'手法,我始终秉持着'忠于自我'的态度。我喜欢随心所欲地进行创作,不让自己的创作陷入某个固定形式的框框,从媒介上,我选择了水性媒介的透明水彩作为主要的创作材料,然而丙烯与油画也是我所喜欢的媒介之一。
至于创作题材,也开始由初期的渔村或渔船的描绘,进入到一些风景、街景和建筑物等。也许,将来有一天当我的人生阅历逐渐增加,知识增广以及技能的掌握能力提升时,一些我还没涉及的题材,会成为我下一个系列的开始。
我的愿景是希望自己的作品,可以唤起观众强烈的感情,并达致共鸣。对我而言,创作,不单纯是画者在描绘一幅作品而已,而是画者和画作之间的对话、画者和自己的对话,更是画者和观者的对话。艺术是需要具备沟通的功能,但愿我的作品能打开并这个对话框,让观众随着参与其中,得以了解故事。
2018年,是特别的一年,因为我终于兑现了自己许下的承若,获得了美国水彩画会正式颁发'署名会员'资格。