Jayson Yeoh Choon Seng, AWS, NWS, MOWS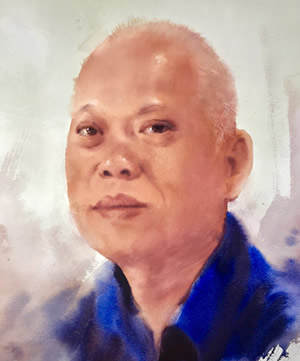 Jayson Yeoh is a self-taught artist who works in watercolours. His paints in a variety of subject matters, like fishing villages, fishing boats, scenery, street scenes and buildings.
His works are semi-abstract representations of the subject matters, and recently, he has combined traditional methods and abstraction together and hence has presented a new style.
His artworks have been selected for numerous exhibitions and competitions in both local and international juried exhibitions.
His artwork 'Serenity' won him the Second Place Founders Award in the 2013 International Watermedia 'Legacy' Exhibition in The Pikes Peak Watercolor Society, USA.
Among his best achievements are 'The Wittnauer Watch Award' in the 87th Annual Open Juried Exhibition by The Canadian Society of Painters in Watercolor 2012 and the 'Award of Distinction' by the Missouri International Annual Open Juried Exhibition 2013.
In 2014, another of his artwork won the Artist Merit Award at the International Annual Open Exhibition by the Missouri Watercolor Society, USA and he has recently been awarded with the Signature Status by the MOWS.
In 2018, "Splashing Stories #6" has been selected to exhibit in the American Watercolor Society International Exhibition and he has been awarded Signature Membership.
He is currently a member of the Malaysia Watercolor Society, Singapore Watercolour Society (SWS) and the Penang Watercolour Society (PWCS) , and Signature Member of the National Watercolor Society and American Watercolor Society
He is very active in both the local and international arts scene. He has been invited to exhibit in many international exhibitions. He was invited in 2016 and 2017 by the Ministry Of Culture Of The Peoples Republic Of China and The Peoples Government of Shaanxi Province to exhibit in The Silk Road International Arts Festival, "Today Silk Road Special Exhibition Of International Art Works" to be the curator for the Europe-America and Asia region.
In 2017, he was invited to exhibit in the 5th Watercolor Biennial in Saint-Cyr-Sur-Mer in southern France. His works have received commendation and has successfully completed a 3-day workshop arranged by the organizer and has received great support by the participants.
He has been invited as a juror in the 2013, 2014 and 2017 International Watercolor Society Competition.
His works have received commendation from galleries, private companies and collectors.
杨觉昇
杨觉昇是一名自修画家,擅长水彩画创作。他的创作题材广泛,除了渔村、渔船、风景、街景与建筑也是他的喜欢的题材之一。
他的创作趋向于半抽象风格,近期更是以传统方式与抽象创作结合,展现另一风格的作品。
他的作品也常在国际水彩画比赛中脱颖而出,作品《搁置》曾经于2012年,获得第87届加拿大水彩画家协会(CSPWC/SCPA)常年评选展'The Wittnauer Award'、作品《宁静》获得美国2013年,第十八届皮克斯克(PPWS)国际水彩双年展'第二 奖'、作品《停泊》,获得美国密苏里州水彩画会(MOWS)2013年度国际公开评选展'卓越奖'以及与2014年,作品《还在忙碌二》获得美国密苏里水彩画会国际年度公开评选展'优异画家奖',并于同年颁发'密苏里水彩画会署名会员。随后于2016年他以《绝非无关 #62》这幅作品获得了第96届美国全国水彩画画会正式颁发"署名会员"资格,同时于2018年,作品《纸染的故事 #6》入选了美国151届水彩画画会年度评审展,并获得该画会颁发正式的"署名会员"资格。
他非常活跃于国内外的水彩画坛,作品经常受邀参加世界级的水彩画展。他于2016年与2017年受到中华人民共和国文化部、陕西省人民政府的邀请和委任为
国际文化艺术节的《今日丝绸之路国际美术展》欧美于亚洲区的策展人。
他也2017年,以受邀嘉宾的身份参与由法国滨海圣西文化部主办的2017年第五届'国际水彩双年展,作品深获好评。同时他在展览期间,成功地完成了主办方所筹备的3天"水彩画工作营',并获得当地水彩画爱好者的踊跃是支持。
他曾于2013、2014以及2017受国际水彩画会委任为水彩画赛的评委团评委之一。
他的作品也备受画廊、私人公司以及收藏家的喜爱和收藏。
他也是马来西亚水彩画会、新加坡水彩画会、美国全国水彩画会以及美国水彩画画会的正式会员